ABOUT US
Foundation Frison Horta is an Active Cultural Bridge Between East & West Restoring, Preserving and Sustaining Rich Art & Craft of the By-Gone Era, in an Artistic Art de Vivre form. The Foundation Aims to foster greater understanding and Appreciation of Rich Heritage, Métiers d'Art and Cultural Traditions of East particularly of India in Europe and vice versa, due to which a wider audience is getting aware of restoration and preservation- the revival of Art Nouveau in its full-form and about how important it is to save the handful of buildings left of Horta, witnessing the Belle époque and rich métiers des arts and craftsmanship of a by gone Era. It is most crucial to preserve them as these are rare Architectural Jewels.
Frison is Exceptionally the only Horta house that is lived in and is also a Foundation- a Living Museum sharing its unique tale Globally.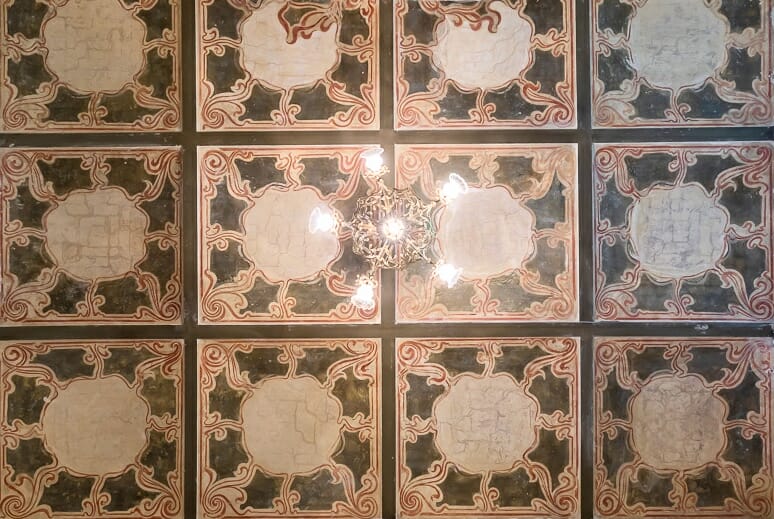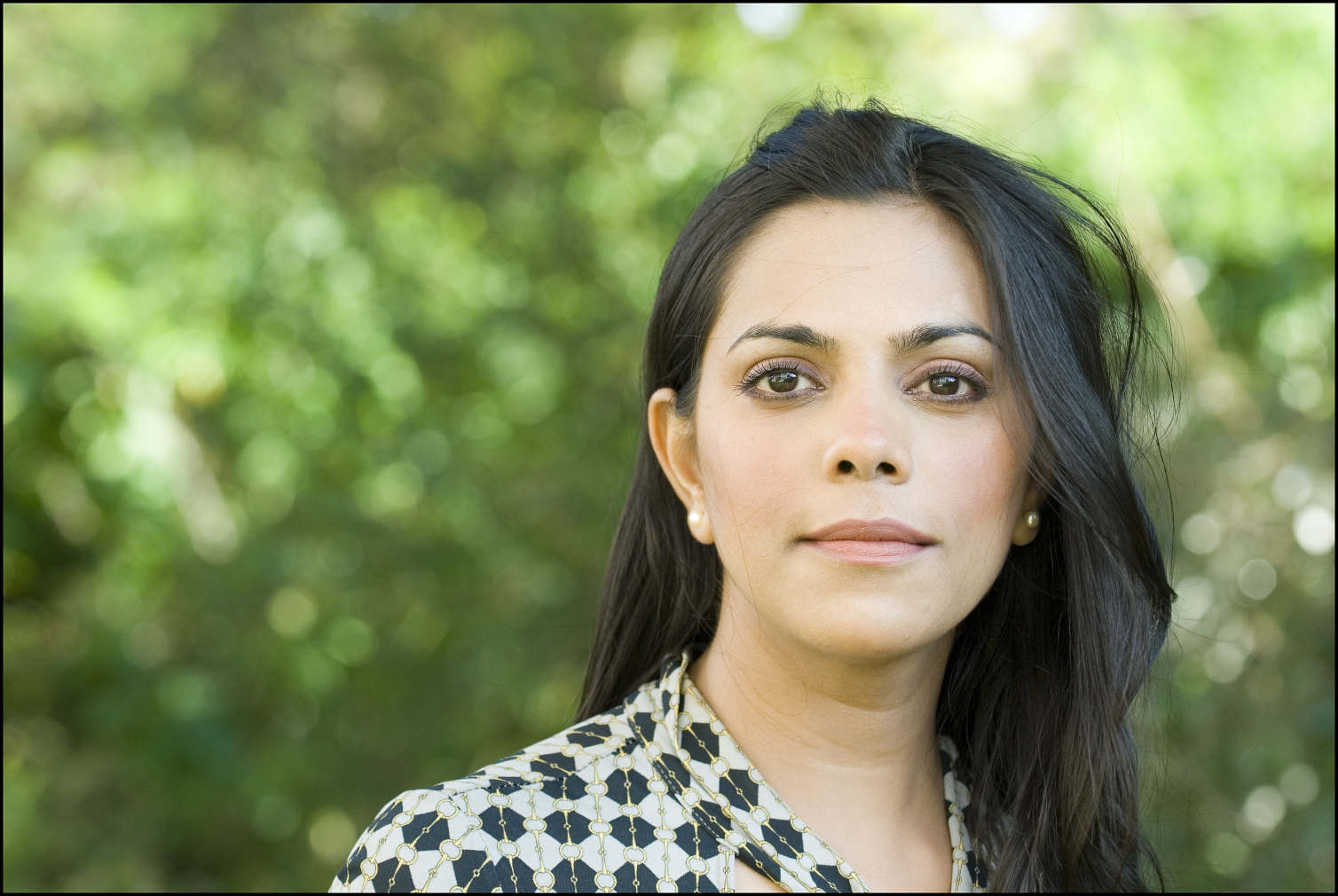 Founder of Foundation Frison Horta
Creator of Haute Jewelry "Nupur-Paris"
Working Extensively in the field of Heritage & Culture
Consultant in Luxury Life Style Art de Vivre
Nupur Tron, incarnates the image of a young modern Indian woman, living in Europe for over 16 years, in Paris and now in Brussels.
Consultant and Curator of Heritage, Art & Culture. With her Enriched Sensibility for Europe and India with many Branded Projects with House like LVMH, Kerring Group and Richmont and has her own haute Jewelry brand from Paris "Nupur-Paris" and has worked with Comite vendome with brands like Boucheron to name a few.
Studied complete courses from the Prestigious school of jewelry Arts l'Ecole van cleef and Arpels Paris
Actively working in the field of Luxury & Life Style with Brands from Comite Vendome and Comite Colbert in "Art de Vivre" Creator of Haute Jewelry Brand from Paris "Nupur-Paris" which has Retailed in Le Bon Marche Paris and Across the Atlantic for over 20 years.
She has been the only chossen Indian Official delegate to be in French President de Republic Official visit to India in Dec 2010 as an  Example of Young Entrepreneur Success Story from France.
European Public Television in France, Belgium and Germany recently did an Emission on her Realizing her Strength in Making the Across Culture Relations Stronger and Profound through Culture Heritage and Patrimoine In Promoting Peace.
In 2018, during the year of Victor Horta and the year of European Patrimonies, Nupur curated historically for the first time, a conference on Art Nouveau in Mumbai India with Dr. Bhau Daji Lad Museum, connecting the bridge between the East and the West in Cultural Heritage and Craftsmanship.
Foundation Frison Horta is an Organic, Living Bridge between the East and the West Aiming to Revive Heritage, Culture and Fine Craftsmanship of a "By-Gone Era" through Restoration, Preservation and Sharing which is also the Philosophy of the Foundation. Open to the public for the first time in History since 1894 a discovery of a Hidden Jewel. The recent Complete Restoration of the Winter Garden is a Historic Moment which stands as an Extraordinary Example of a Time Capsule of Horta with its Original Furniture and Art Decorative, Making it a Living Museum Connecting the Past to the Future.
The revival of Heritage, Culture and Traditional Craftsmanship through Restoration, Preservation and Sharing is central to the Foundation Frison Horta, the Hotel Frison built in an Art Nouveau–style was designed by Victor Horta for his Dear friend, the lawyer of the time Maurice Frison. This was the second house built by Horta and quite Important House from his Early works. The completion of the Restoration of this hidden gem with its beautiful Winter Garden is like a Renaissance of this Magnificent site replete with Original Furniture and Decorative Art that you will be able to discover through the eyes of its new owner and initiator of this Incredible project Waking this Sleeping Beauty in its Full Glory.
Flourished in Belgium under Victor Horta, In Spain under Gaudi and In France under Guimard.
Art Nouveau is an International style which was born in Brussels in 1893 with the construction of the Hôtel Tassel with an Organic style heavily inspired by Nature, Flora & Fauna Flourishing all over Europe.
Many Belgian Architects like Paul Hankar or Henry van de Velde took their Inspiration from the Richness and Luxuriance of Nature and from the writings of Eugène Viollet-le-Duc and John Ruskin (among others). Their common dream was to make a contemporary style which breaks away from the Fastidious Imitation of the styles of the past.
Brussels, a Cradle of Modernity, offers many examples of Houses made as a Portrait for Architect's Client. To enter one of them is to discover a New World more Organic and away from the Furry and Anxiety of the cities which are growing Endlessly. This movement is strongly linked with a Renaissance of the Crafts.
Craft and Design were one of the main concerns of Art Nouveau Artists who wanted to compete with the bad quality and ugliness of new Industrial Artefacts urban chaos that plagues Brussels. The desire of a beautiful house harmonizes with the dream of something ferique. After the dominant golden years from 1893-1902, Art Nouveau moved towards something more Geometric and became less attractive. Although it took new directions in different Influential cities like Vienna, Barcelona, Paris and Glasgow.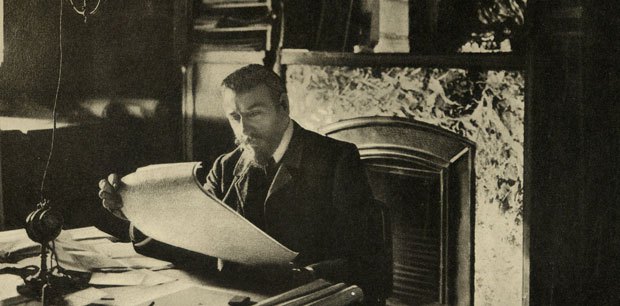 HIS MAJOR WORKS
– Hôtel Tassel, Belgium (1893)
– Maison Frison, Brussels (1894)
– Hôtel Solvay, Brussels (1895-1900)
– Hôtel Van Eetvelde, Brussels (1898)
– Maison Horta, Brussels (1898)
– Waucquez Department Store, Brussels (1903)
– Wolfers Building, Rue d'Aremberg 11-13, Brussels (1909)
– Palais des Beaux-Arts, Rue Royale 10, Brussels (1920)
Glass roofs bringing lights to already dark Brussels homes.
Victor Horta was born on the 6 of January, 1861. He was the son of a shoemaker Maître Cordonnier and his interest for Craftsmanship goes back to the time he was a pupil of Alphonse Balat, who constructed the Royal Greenhouse of Laeken. He studied Architecture in Gent and Brussel with an Internship in Paris.
Founding Father of Art Nouveau, an Engineer, a Scientist and a Genius of his time in Building this Historical City with Avant-Garde Environment of Impressionist & Symbolist Artists, Liberal Socialites and Free-spirited Architects Influenced Horta's style (Free Masonry). He built Brussels with his Genius vision of bringing all the elements from Nature into our homes and everyday lifestyle, bringing outside into the inside with Nature, Light and Depth.
Horta's works were most Prominent  in his time with over forty monuments. Sadly only a handful are left today.
Victor Horta's most Renowned works are part of UNESCO National Heritage: Hôtel Solvay, Maison Horta, Hôtel Van Eetvelde and Hôtel Tassel.
His other important works include
Central Station in Brussels

Maison du Peuple (which was completely demolished)

Hospital Brugmann

Bozar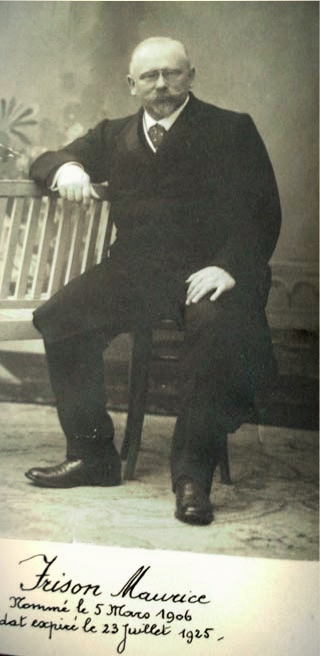 MAJOR ACHIEVEMENTS
– Socialist
– Lawyer of the court
– Member of the General Council of Godshouses
– Member of the Workmen's party
– Recipient of the Grootkruis; Legion of Honor in the order of King Leopold-II
– Ambassador of Belgium in France
– Member of Freemason
Both Victor Horta and Maurice Frison were extraordinary public figures in Brussels. The two made their social mark on the 19th Century Brussels society.
Maurice Frison was born on 8 March 1863 in Quevaucamps, a small village in the south of Belgium. He studied law in Brussels, just like his father.
Most of the Information on Frison has been obtained from the Horta memoirs and from the OCMW (Social Services) archive.
Horta was a student of Alphons Balat and it was this collaboration with Balat that provided for the meeting of Frison and Horta. Balat asked Horta to design a pavilion in collaboration with the sculptor Jef Lambeaux. The execution, however, was not easy as Lambeaux changed the design very frequently, causing a terrible delay, for which Horta was held responsible. The pavilion was completed in 1899 but the collaboration between Lambeaux and Horta resulted in a law suit in which Maurice Frison defended the architect. He wrote in his memoir; "The Lambeaux case has led to the acquaintance and the beginning of friendship." Maurice Frison was an outstanding customer, protector, lawyer and a close friend of Victor Horta for over 45 years.
Maurice Frison was a Socialist Lawyer. He was a part of the building blocks of the social and civil reforms of Belgium. He was socially engaged, was a member of the General Council of Godshouses (the current ocmw), where he sat on various committees, including the commission for social housing, the committee for national hygiene and the committee for agricultural schools. In 1925 Frison got the Grootkruis; legion of honor in the order of King Leopold II, which is the highest form of honor. In addition to being the lawyer of the court, Frison was also ambassador in France. During the time, council members and ambassadors generally belonged to the elite. Legal profession was not practiced by the "ordinary" citizen in the nineteenth century.
Presumably Frison was also a freemason who brought Victor Horta in his inner circle of freemasonry and Converted him as a free mason at the age of 26 got him projects like Hospital Brugmann, Solvay, Max Hallet. Maurice Frison was thus responsible for getting Horta some of the very important projects in the beginning of his career.
Thanks to Frison, Horta became a member of Freemasonry.
Frison recommended Horta to design the Volkshuis and also recommended him to the council to design the Brugman hospital in 1906.
The council wanted to organize a competition to an architect to choose design the hospital. Frison's reaction was: "that extreme caution is required in the choice of architects". He also reminded the council of "the problems caused by competitions" Frison proposed "to appoint a single architect in accordance with M.Hallet." Frison and Hallet convinced the council in favour of Horta. This did not go without a struggle, but on June 1, 1906 the choice fell on Victor Horta.
Frison got married in Paris on January 23, 1894, the same year Frison asked Horta to design a house and an office. Horta was enthusiastic about his new assignment. He wrote: "Frison is the first customer who, without me knowing, except by Lambeaux, was attracted by my work."
MAISON FRISON
Foundation Frison Horta sits in the Middle of Rue Lebeau which skirts Neo-Renaissance and Neo-Gothic Mansions all around it, looking like a Neo-Renaissance Turret. It is a House of Nature & Light with Flora & Fauna Engulfing the whole House. It is the only Horta house in the Historical city centre of Brussels. It is exceptionally the only Horta house that is lived in and is also a Foundation- A Living Museum.
Maison Frison is the Only one of a kind house of Victor Horta that was Constructed for Double Function Maurice Frison (Lawyer of Court of Leopold II) office and living space.Foundation frison Has Continued the double function of Horta with Foundation museum activities and the living space making it an Exceptional Unique work of Victor Horta!
We are a Cultural Institution and Centre for Art, a Living Museum, an Organic and Alive Cultural Platform conveying the Heritage-Tale of Brussels to a Global Audience. It is a Historical Landmark which showcases the work of Horta with Original Furniture, Art Decorative, Murals and Frescos, Making it Lively as a Time Capsule Bringing Back the Soul of Horta in Full-Form through an Artistic Dialogue with Multidisciplinary Institutions and Museums. The House is seven meters wide, twenty-two meters deep and about twenty meters high with a Monumental Staircase Leading to the Seven Skies with Seven Floors.
The Staircase, usually considered a subsidiary element is the focal point. Gleaming and Hypnotic taking half the area of house and representing the triumphs of Horta's Cardinal Principles. The Absolute unity of Structure and Decor is just as Heretical with Employment of such 'Unsuitable' Materials as Concrete and Iron to set off Marble, Stain Glass and Precious Hardwood. Iron Metamorphosed form work-horse into Butterfly Pilasters and Railings the Gilded Metal as delicate as Filigree twisted gaily into Configurations of the famous Curves and Counter Curve. Swirling, Interpenetrating spaces Lightening transparently with a huge Central skylight and Elegant little Sconces. The Furnishing are doubly related Echoing not only to each other but to the Fundamental composition of the house itself and its Ornamentation. Flooring is in Mosaic Embracing the whole staircase with Frescos, Typically Horta.
Its the second house of Horta In Brussels and the only one in the historical city centre.
"A House should not Merely be a Reflection of its Owner's life but should itself Represent Portrait of him." -Victor Horta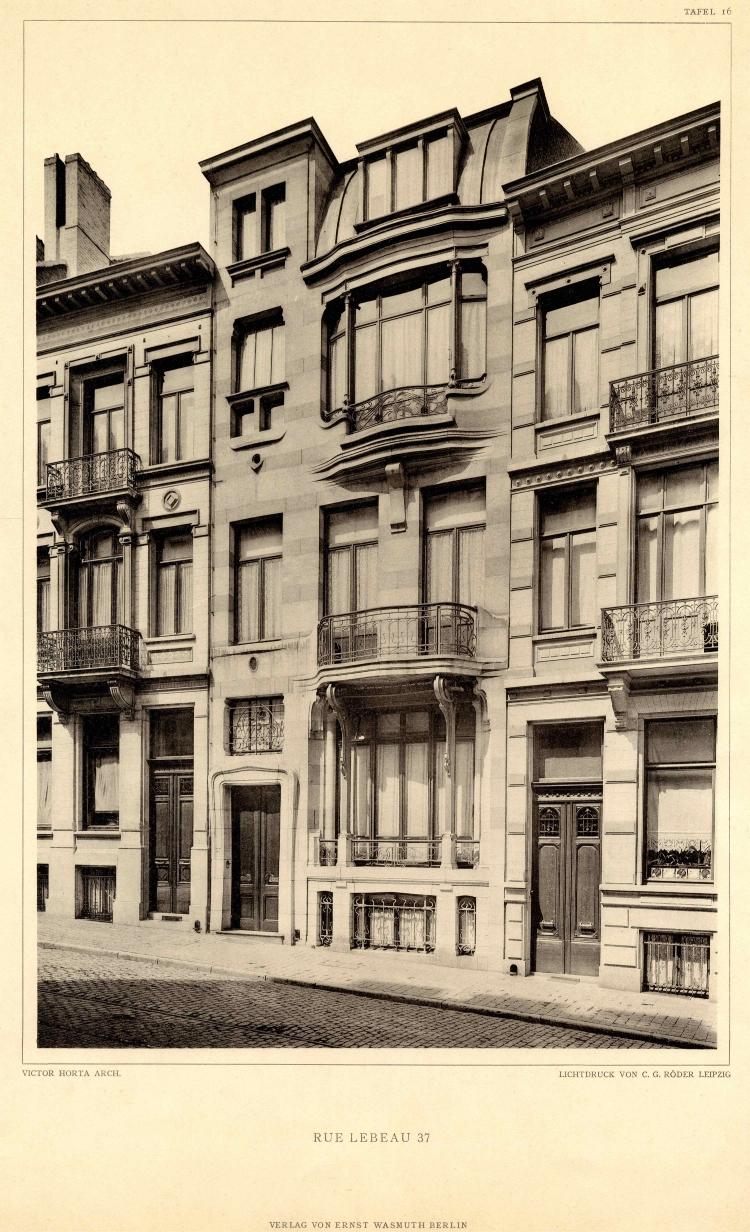 CONTACT US
37, Rue Lebeau, Sablon
1000 Brussels
+32 (0) 2 33 04 79 6