Cultural Management and Policy
(6 May 2019)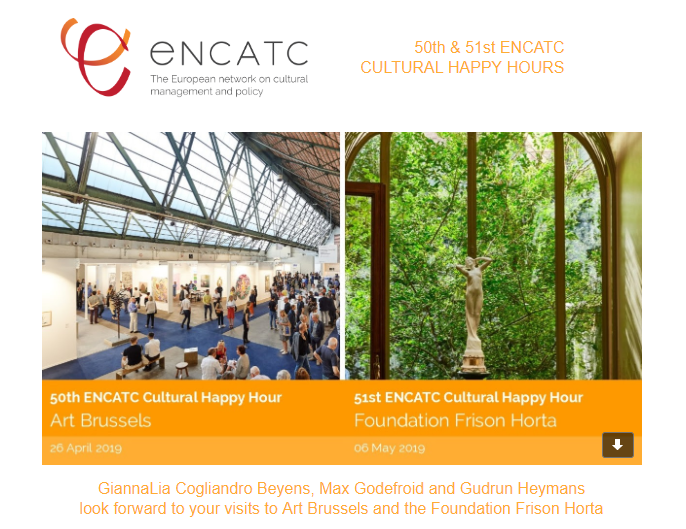 On 26 April, the 50th edition of our popular ENCATC Cultural Happy Hours project deserves a great celebration!! What we could offer better than inviting you to discover together the 37th edition of Art Brussels, one of the most renowned contemporary art fairs in Europe and a must-see in the international art calendar.
For its 2019 edition, Art Brussels, a unique opportunity to discover the richness of the artistic and cultural scene of the European capital that attracts a growing number of collectors, gallerists, curators, art professionals and art lovers from around the world.
In 2019, Art Brussels has launched a new and diverse INVITED section, supporting emerging galleries or art spaces that are transcending the typical gallery format and that have never before participated in the fair. Retaining its youthful profile as a discovery fair, Art Brussels brings together each year more than 150 galleries among the most important of the international scene, gathered in three sections: DISCOVERY: the focus is on young, emerging and lesser-known artists with recent works (2016-2019); PRIME: the focus is on established artists from modern to contemporary; and REDISCOVERY: dedicated to art from the 20th century, the section presents living or deceased artists that are under-recognised, under-estimated or forgotten.
On 6 May, the 51st ENCATC Cultural Happy Hour invites you to the Foundation Frison Horta, housed in the beautiful Maison Frison designed by the Belgian architect Victor Horta in 1894. Not only is it the only Horta house in the historical city centre of Brussels, but exceptionally it's the only Horta house that is lived in and a foundation – a living museum.
The Foundation Frison Horta is an active cultural bridge between east and west, restoring, preserving and sustaining rich-art and craft of the by-gone era, in an artistic art de vivre form.
It has the aim to foster greater understanding and appreciation of rich heritage,Métiers d'Art and cultural traditions of the east, particularly of India in Europe and vice versa, due to which a wider audience is getting aware of restoration and preservation- the revival of Art Nouveau in its full-form. It also communicates how important it is to save the handful of buildings left of Horta, witnessing the Belle époque and rich métiers des arts and craftsmanship of a by-gone era. It is most crucial to preserve them as these are rare architectural jewels.
ENCATC is very honoured to be able to offer this special and privileged opportunity to its Cultural Happy Hour guests.